I had the opportunity to interview Ashley Wurzbacher, the author of Happy Like This. Here are some highlights.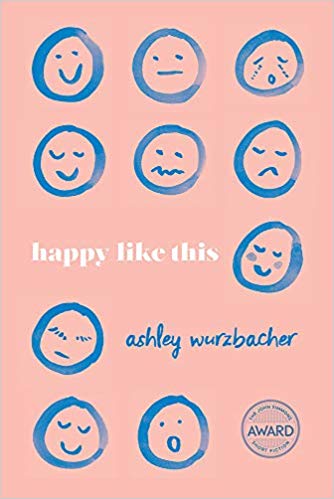 Do you write for others or for yourself only?
Fiction is meant to be shared, and I don't know many serious fiction writers who would say that they write only for themselves. I'm certainly one of my toughest critics, and I have to love and stand by what I've written before I feel ready to share it with others. So I'm an important member of my audience, but I'm not the only member. If there's a particular audience I'm most invested in writing towards, it's women who are struggling to define themselves and to figure out what their lives should, or can, be. This book is for them.If I could give my readers "advice" for how to experience or interact with my book, I'd ask them to take it slowly and to luxuriate in the rhythms of the sentences, to take pleasure in the language. Clean, well-crafted sentences and lyrical prose are as important to me as interesting, complex characters or exciting plots. I hope readers will enjoy the voice of each story as much as they enjoy what happens in the story. But ultimately, it's up to readers to determine how they will engage with a book.
Are you affected by other people's appraisal of your work? Have you ever been hurt by them?
I've been through many years of writing workshops and am very used to having my work critiqued! For the most part, I find the constructive criticism exchanged in workshops to be exciting and invigorating. The writer and the readers in a workshop are putting their heads together to shape the work into the best possible version of itself.Criticism of published work is a little different than criticism in a workshop setting. While in a workshop all participants understand that the work being critiqued is a work in progress that can be revised, criticism of published work doesn't have as much of a constructive function– at least not to the writer. I can't use the feedback to improve the book because the book is already published, so the feedback feels less useful, more personal, and more potentially painful. I'm fortunate and grateful thatHappy Like This has been received very positively!
Do you feel that you and the characters in your book have been well understood by your readers?
I have been blown away by all of the positive attention and recognition Happy Like This has received, from the New York Times to the National Book Foundation to the individual readers who have shared their thoughts with me. I haven't gotten the sense that there is a single prevailing view of the characters or the stories, which I think is a good thing. Different readers identify different stories as their favorites; there isn't just one story that's unanimously agreed to be the standout of the collection. This shows me that people are connecting to the book in all sorts of ways, depending on their own tastes and experiences.It's hard to say whether the characters have been "understood by" my readers. Readers are entitled to their own unique interpretations and understandings of the characters. It wouldn't be fair of me to suggest that my own understanding or interpretation of them is somehow the master, authoritative one against which others' can be measured. I do hope that readers can accept my characters as flawed, imperfect people and can empathize with them rather than passing judgment on them. My characters are sometimes over-critical of themselves or others. Some of them have body image issues. Some of them are sad or lost or can't "get their shit together." I hope my readers can acknowledge the characters' complexity and respect their right to be imperfect. I'm personally not very interested in books where every character is a perfect paragon of virtue.As for whether or not I myself have been understood by my readers: I don't know that readers really have the tools or the context to understand me as a person. They can get to know my book, but that doesn't mean they are getting to know me. While I put my heart into my work and gave a lot of time and care and energy to bringing it into the world, it's ultimately separate from me, rather like a child. It has its own life now that is distinct from mine.
What books are currently on your book stand?
Colette Sartor's Once Removed, Kimberly King Parsons' Black Light, and Margaret Renkl's Late Migrations are at the top of my very tall and ever-growing "to read" stack.
What do you plan to read next?
I'm rereading Carmen Maria Machado's Her Body and Other Parties and have assigned it to my students in two of the classes I'm teaching this semester. It's a book that has meant a lot to me, so I'm excited to share it with the students and see how they connect to it. I'm grateful to Carmen for selecting Happy Like This for the John Simmons Short Fiction Award– if it weren't for her, my book wouldn't exist.
What is next for you?
I'm currently at work on a novel that's focused on the relationship between two very different sisters. It's still taking shape, so I can't say too much about it yet, but it explores some similar themes as Happy Like This and is similarly focused on women's inner lives and relationships.
About Ashley Wurzbacher

Ashley Wurzbacher's writing has appeared in The Iowa Review, The Kenyon Review, Prairie Schooner, The Cincinnati Review, Colorado Review, Michigan Quarterly Review, Gettysburg Review, Alaska Quarterly Review, and elsewhere. She earned her BA from Allegheny College, her MFA from Eastern Washington University, and her PhD in Literature and Creative Writing from the University of Houston. Originally from Titusville, Pennsylvania, she currently lives in Birmingham, Alabama and teaches creative writing at the University of Montevallo.

Her debut short story collection, Happy Like This, won the 2019 John Simmons Short Fiction Award (selected by Carmen Maria Machado) and is a National Book Foundation 5 Under 35 honoree (selected by Brandon Hobson).
Tags: Book Reviews, Happy Like This
Posted in Book Reviews, Reviews |