I had the opportunity to interview Alexandra Teague, the author of Or What We'll Call Desire. Here are some highlights.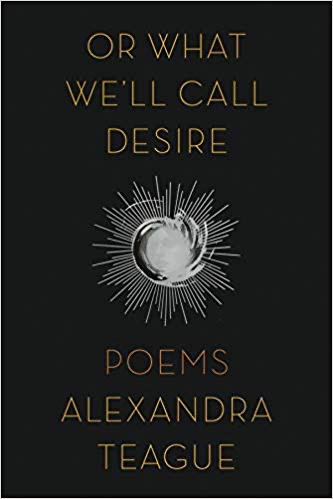 Do you write for others or for yourself only?
I write in conversation with a range of historical texts and people, and contemporary ideas, and living humans (some of whom I explicitly know, and some of whom I hope will find the work). I frequently discover new commonalities with strangers and even friends through writing, so, while I'm not trying to please or write to an exact audience, my poetry is very much about entering cultural and personal conversations. That said, I also discover what I really know and feel about subjects by writing about them. I agree with Adrienne Rich that we often put in poems what we don't know we know.
Are you affected by other people's appraisal of your work? Have you ever been hurt by them?
Having spent years in workshops before I ever received reviews of my work, I know that readers will have a range of reactions based on their own experiences and aesthetics, as well as on the work itself. Of course I'm happy when I feel as if people really get my work, which I've been fortunate to feel in reviews in The Rumpus, and Booklist, and other sources over the years–most recently Stephanie Burt's really lovely review for The New York Times. I appreciate hearing what people are taking away from the work. And of course when I feel as if people don't get or don't like what I hope I'm doing, I wish that were different. But no author is going to be loved by everyone. And, as I also remind my students, we can also learn a lot from what doesn't quite land as we'd hoped it would.
Do you feel that you and the characters in your book have been well understood by your readers?
Yes, as I was saying above, I feel as if this book, Or What We'll Call Desire, has really been clearly seen, and generously assessed, by several reviewers already, including in The Millions, Shelf Awareness, and The New York Times. When Stephanie Burt described my poems as "quirky, passionate, and righteously outraged," I felt as though that perfectly captured what's at the heart of this work.
What books are currently on your book stand?
Currently, I'm reading Franco Berardi's Breathing: Chaos and Poetry, and also re-reading Macbeth, which I'm teaching right now; before that, I was returning to Ilya Kaminsky's Deaf Republic.
What do you plan to read next?I'm also midway through, and excited to read more of, Ralph Ellison's Invisible Man, which I ridiculously had never read. It's absolutely blowing my mind. So far, it's one of the most brilliant books I've ever read, and still far too timely. I'm also excited to finish Inger Christensen's it, which I started earlier this semester but had to set aside because I got busy with reading for teaching.
What is next for you?
I'm currently working on a series of poems about contemporary gun violence for a grant-funded project from Sam Houston State University that the poet Nick Lantz and the composer John Lane are curating. And I'm also working on a memoir in essays about my family and mental health and fantasy. And I'm working on new poems toward a fourth collection, some of them in response to American patriotic songs.
About the Author

Alexandra Teague's first book of poetry, Mortal Geography, (Persea 2010) won the 2009 Lexi Rudnitsky Prize and the 2010 California Book Award Gold Medal for Poetry. Her second book, The Wise and Foolish Builders, was written and researched in part thanks to a 2011 NEA fellowship, and published by Persea in 2015. Her first novel, The Principles Behind Flotation, was published by Skyhorse in 2017, and came out in paperback in 2019. She is also, with Brian Clements and Dean Rader, editor of the anthology Bullets into Bells: Poets & Citizens Respond to Gun Violence (Beacon 2017). Her third book of poetry, Or What We'll Call Desire, was published by Persea in August 2019.

​​​Alexandra was awarded a 2019 Civitella Ranieri Foundation fellowship. She was previously the recipient of the 2014 Missouri Review Jeffrey E. Smith Editors' Prize, a 2011 National Endowment for the Arts Fellowship, and a 2006-2008 Stegner Fellowship at Stanford. After living, studying, and teaching in states including Arkansas, Missouri, Florida, and California, she is currently an Associate Professor in University of Idaho's MFA program, faculty advisor for Fugue, and an editor for Broadsided Press. She is also a founding member of the interdisciplinary arts BASK Collective. She lives in Moscow, Idaho, with her husband, the musician and composer Dylan Champagne.
Tags: Alexandra Teague, Author, Book Review, Book Reviews
Posted in Book Reviews, Reviews |