I had the opportunity to interview Noy Holland, the author of the popular novels Bird and Swim for the Little One First. Here are some highlights.
Do you write for others because you have to write or for yourself only?
I don't feel obliged to write, no. Honestly, I don't think anyone notices or cares if I'm writing or not—the need to do so has to come from me, or the desire. I write for myself to the extent that it is a private act. I try to disengage from any sense of readership while I'm writing, any worry about how editors, reviewers, family, friends might respond. If I didn't do this, the work would quickly become accommodating, dishonest.
How many days do you actually write, and how rigid you are about that schedule?
I don't doubt that it's best to write every day, in the same quiet space, at the same time of day. But I don't do this. I have a full-time job and children—this is likely an excuse—or I am temperamentally incapable of sustaining ritual. I write best when I am away from everything, for days or weeks at a time, when nothing intrudes. Then I can write 8 or 10 hours a day—with much joy and difficulty and relief.
While writing, what kind of relationship do you often form with your own writing self – a painful or a joyful one?
Ah, joy. And pain. In equal measure, perhaps. Sometimes the material brings pain but the writing is swift and feels right and true and this of course compensates for the ache.
How do you recognize if you are on the wrong track?
By sounding things out, by reading the work aloud. If I grow bored or if I feel I know too well where I am headed, I throw the pages out or put them aside, give myself time to see the complication that for me is generative. Slow, but generative.
Are you affected by other people's appraisal of your work? Have you ever been hurt by them?
I remember every morsel of criticism, unfortunately. Sometimes this is useful, when I see that the reader is clearly being a ninny—then the criticism can be weirdly fortifying. I mean, I can recognize that I have no interest in answering to certain readers, certain expectations. I get a little feisty and move on. Of course, too, there is the criticism that speaks to worries I already feel—this is more hurtful, I suppose, and takes longer to make use of. Often times it's all just noise and even though I remember it and am hurt by it there is nothing to do but persevere.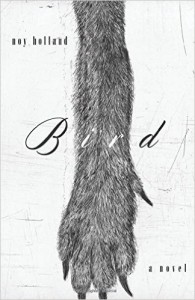 Do you feel you and the characters in your books have always been well understood by your readers?
Certainly not always, but often, or often enough. I'm not looking to be widely understood. A good friend just read my recent novel, Bird, and she called it a "serious oddity." That's okay, that's a way of saying, as she also said, "I've never read anything like it." My hope is that my work will be deeply felt, and felt for a long time, by those few readers it speaks to. I don't seek to be "odd" or difficult to understand. Nor do I seek to be read on a soft couch by a reader who is watching college football while he reads. It would be false to me to be easy—easily digested, easily consumed.
Do you lose yourself in your writing? The very fact that writing is a very lonely art, do you sometimes feel lonely?
Lonely, yes, but this is a feeling I find somewhat delicious. I'm a loner by nature, happy to listen to the wind and the birds.
What books are currently on your book stand?
Diane Williams' Fine Fine Fine Fine Fine; Janet Frame's Owls Do Cry; Cesar Aira's The Musical Brain; Madeline ffitch's Valparaiso, Round the Horn
What books are you embarrassed not to have read yet?
Anything by David Foster Wallace. And Don Quixote.
What do you plan to read next?
A non-fiction book called Peregrine, by JA Baker. And Wendell Berry.
Which books might we be surprised to fined on your shelves?
Fundamentals of Swahili. And a shrink-wrapped, for 20 years, biography of Mark Rothko.
What is next for Flournoy Holland and what would be next for Flournoy Holland if the sky were the limit?
I'd like to be unemployed, with every debt paid, and back to my gypsy ways.
Tags: Author, Authors, Bird, Book Reviews, Interview, Interviews, Noy Holland, Swim for the Little One First
Posted in Book Reviews, Reviews |