I had the opportunity to interview Emily Liebert, the author of the popular novels Some Women  and  Those Secrets We Keep.  Here are some highlights.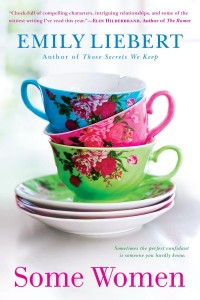 Do you write for others because you have to write or for yourself only?
I write for others and for myself—but never because I have to write. I tell the stories that I'm compelled to tell and the ones I think will engage and intrigue my readers. When I'm not in "writing mode," and I'm focusing on other aspects of my career like speaking engagements, publicity, book tour etc, I yearn for the writing. It's a creative release for me and very cathartic. It keeps my mind moving.
How many days do you actually write, and how rigid you are about that schedule?
With the five books I've written thus far, I was very rigid. I pushed myself to write every weekday for about four hours. And I had to hit a certain word count. With my sixth book, which I'm writing now, I'm taking an entirely different approach. I have no outline, only a general idea of where the story is going. I'm trying to let the words flow when I'm inspired.
While writing, what kind of relationship do you often form with your own writing self – a painful or a joyful one?
A little of both! I'm hard on myself and always feel I can and should do better. But, at the same time, the process can be very rewarding when you're wholly invested in your growth.
How do you recognize if you are on the wrong track?
It's a feeling—when the process isn't organic. If I'm trying to force a plot development or a character's personality seems inauthentic, I know I need to reassess.
Are you affected by other people's appraisal of your work? Have you ever been hurt by them? 
Yes and yes! There's nothing like receiving positive praise for something you've given so much of yourself and your time to. Of course negative reviews do sting. I used to read every review on Amazon and Goodreads until a very wise and seasoned author friend told me I was out of my mind! Sometimes I can't help myself, but I do my best, because the negativity is toxic.
Do you feel you the characters in your books have always been well understood by your readers? 
For the most part, yes. There have been a couple of circumstances when I thought something would make a character more relatable and the reverse was the case. But, at the same time, I don't need my readers to understand my characters in the way I want them to. I want them to have their own experience.
Do you lose yourself in your writing? The very fact that writing is a very lonely art, do you sometimes feel lonely? 
I lose myself in the story and in the lives of my characters. I wish I could lose myself in the moment of writing, but there's always too much going on around me for that! I work from home and have two young kids, so I can't say that I feel lonely. In fact, I wish I had a little more alone time!
What books are currently on your book stand? 
Before I Go by Colleen Oakley, How to Start a Fire by Lisa Lutz, The Ramblers by Aidan Donnelley Rowley, and an advance copy of Santorini Sunsets by Anita Hughes.
What books are you embarrassed not to have read yet? 
I was embarrassed that I never read Gone Girl, but I just finished it about a month ago. Aside from that, probably some of the classics like War and Peace.
What do you plan to read next?
The books on my nightstand listed above. And I'm looking forward to Lauren Weisberger's new novel, which comes out this summer!
Which books might we be surprised to fined on your shelves? 
So many! I'm a book hoarder, so there's everything from women's fiction (no surprise there), young adult, mystery, gardening, motherhood, food, and politics to travel, memoirs and so on.
What is next for Emily Liebert and what would be next for Emily Liebert if the sky were the limit? 
As far as I'm concerned the sky is the limit! I'm sure you can look forward to many more books from me, including the one I'm working on now. And who knows what else? Stay tuned…
Tags: Author, Authors, Book Reviews, Books, Emily Liebert, Interview, Interviews, Some Women, Those Secrets We Keep
Posted in Book Reviews, Reviews |