I had meant to read this book, Thrive, by Ariana Huffington, since it came out two years ago, but what delayed me was that in the list of "notes to myself of what I should not do and seriously avoid," (yes, I have a list as such that I obey accordingly and religiously), one of the items in this list happened to be "No more self-help and advice books for me to read." There is nothing new in these books; we only read them as a reminder of what we have already heard and what we already know.
However, this case was different. Arianna Huffington has always been one of my very favorite authors, personalities, and most of all, a role model. I have always liked and admired her as one of those women whom God had the pleasure of creating in the picture of perfection.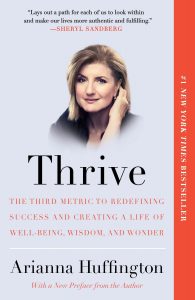 I have always asked myself, What makes these women, who are so grand, so evolved, so successful as they are? What is the actual recipe they use to make such a magical potion of themselves and their lives? What instructions are written in their manual of how to maneuver through life? After reading this book, Thrive, I had an idea. The answer to my question, according to my new discovery, is we women have just too much of an amount of emotions trapped inside of us. We work and we feel with these tremendous, sometimes unruly, emotions. Some of us even use emotion as the only tool we have in our tool box to deal with life. But emotion is like concentrated orange juice — when it's too thick and too concentrated, the result could turn out all wrong. I think just a little bit of pure emotion is enough, and even that has to be diluted with plenty of water. It should be diluted with plenty of data, facts, logic, and having a firm grip on reality.
In this book, Arianna Huffington has used plenty of facts, scientific research, data, logic, common sense, and just the right amount of wisdom and advice. The result is a perfect balance. Her message is that there is more to life than money, success, and power. This is the kind of discovery usually made by people who have already achieved money, power, and success, standing on the top of this summit. They ask themselves, "Is that all there is to money, power, and success?" In this book, Huffington also continues to encourage us to distance ourselves from technology. To that, I say that technology is a double-edged sword of love and hate. The bottom line is that we need technology. We have to find a way to have a healthy relationship with it.
Reading through this book, I was pleasantly surprised that Ariana Huffington has almost secretly been one of us, and we had no idea! Repeatedly all along the pages of the book, she mentions the importance of yoga, meditation, and self-awareness in balancing our lives.
My favorite part of the book is the appendix section, with the list of tools, apps, and other resources. Although so much of this information — because of the fast pace of technology moving forward — is already old, it is still a very good source to which to have access.
About the Author

Arianna Huffington is a prolific author and international media mogul who started the award-winning news platform The Huffington Post. Born on July 15, 1950, in Athens, Greece, Arianna Huffington went on to study economics at the University of Cambridge, eventually moving to the United States. She was a conservative commentator before switching to liberal politics and started the Web site The Huffington Post in 2005. The site, purchased by AOL in 2011, has gone on to become a popular and powerful online news platform. Huffington is also the author of more than a dozen books on topics ranging from feminism to corporate America to politics. In 2016, Huffington announced her departure from The Huffington Post to launch Thrive Global, a start-up company dedicated to health and wellness.

Biography.com
Tags: Ariana Huffington, Book Review, Book Reviews, Thrive
Posted in Book Reviews, Reviews |