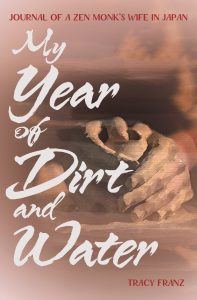 I had the opportunity to interview Tracy Franz, the author of My Year of Dirt and Water. Here are some highlights.

Do you write for others or for yourself only?
I recognize that publication is an act of communication—work produced for publication is ultimately meant for an audience. But for me the process begins with writing for myself, of trying to work out my ideas on paper. Later, if I choose to move forward, I craft with a greater sense of audience. Much of my written work is not shared. I consider this practice—for writing, and for thinking.
Are you affected by other people's appraisal of your work? Have you ever been hurt by them?
Well, it's not particularly fun to receive criticism, and yes—this can sting. But it's also a natural part of the process of publication, of sharing art. Once it's on the public stage, it will be discussed—and this includes both positive and negative evaluation. Rather than concerning myself too much with past criticism, I'm more interested in working on the next thing. (I'll note as well that some of my best-loved books have been brutalized by reviewers or commenters. I take all with a grain of salt!)
Do you feel that you and the characters in your book have been well understood by your readers?
I think some people understand and some don't—and that's okay. I realize that I and my work are not going to be everyone's cup of tea. Not everyone has the same taste. They just don't. I can accept that.
Do you lose yourself in your writing? As writing is a very solitary art, do you sometimes feel lonely?
Yes, sometimes I lose myself in what might be called "flow." It feels great. And sometimes it is more difficult—or even very, very difficult. I just show up and accept whatever comes.I suppose that sometimes I do feel lonely, but that is probably a good state for a writer or an artist to be in at times. I also recommend boredom. And long walks.
What books are currently on your book stand?
I have a habit of returning again and again to much-loved books. Right now I'm re-reading Michael Ondaatje's jazz novel Coming Through Slaughter, as well as poetry by Robert Hass. I am also reading something new—Alexander MacLeod's collection of stories, Light Lifting.
What do you plan to read next?
I have a couple of books on my shelf that I've meant to get to: Tatjana Soli's The Lotus Eaters and Khaled Hosseini's The Kite Runner. I think it's also time to re-read Bonnie Nadzam's haunting novel Lions.
What is next for you?
I'm currently working on a novel, but I won't be ready to say much about it until it's closer to being finished.
About the Author
Originally from Alaska, Tracy Franz lived in Japan for ten years. Together with her husband—Soto Zen priest Koun Franz—and their two children, she now resides in Halifax, Nova Scotia, where she teaches at Dalhousie University. Her essays have appeared in Lotus Petals in the Snow: Voices of Canadian Buddhist Women (Sumeru), Lion's Roar, and Tricycle Magazine. Her memoir, My Year of Dirt and Water: Journal of a Zen Monk's Wife in Japan, was a New York Times Book Review Editor's Choice selection.
Shop Tracy Franz's books on Amazon.
Tags: Book Review, Book Reviews, Books, Tracy Franz
Posted in Book Reviews, Reviews |