I had the opportunity to interview Lisa Napolie, the author of Susan, Linda, Nina & Cokie: The Extraordinary Story of the Founding Mothers of NPR. Here are some highlights.
Do you write for others or for yourself only?
I'm a professional writer. I write to get published! But I'm in graduate school now and writing for my professors. I'm very exacting about my words.
Are you affected by other people's appraisal of your work? Have you ever been hurt by them?
When I was one of the first people to write for the NY Times online many years ago, I'd get all kinds of strange mail. Same later on at MSNBC and then in public radio–then when I started writing books. Sometimes bad mail stings, other times it instructs; sometimes it is weird and makes no sense. I welcome all feedback.
Do you feel that you and the characters in your book have been well understood by your readers?
I write about real people. I love helping to bring them to life.
What books are currently on your book stand?
Barbara Dianne Savage's Broadcasting Freedom : Radio, War, and the Politics of Race, 1938-1948
I just finished Julie Otsuka's The Buddha in the Attic. Both differently wonderful books.
What do you plan to read next?
Right this minute, I couldn't tell you. You caught me at a moment when I'm not sure.
What is next for you?
Finding paying work! 😉
About the Author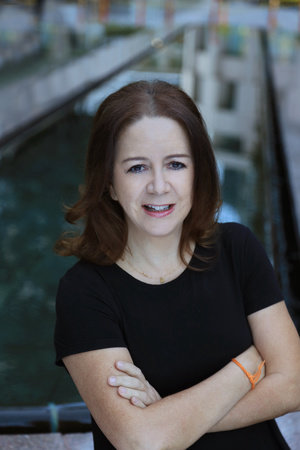 Born and raised in Brooklyn, New York, Lisa Napoli has lived for the last dozen years in southern California, where she was inspired to write this book by a public artwork with a mysterious provenance. In her three decades as a journalist, she's worked for The New York Times, MSNBC, the public radio show Marketplace, and a variety of other outlets.  She's covered everything from presidential campaigns, to hacker conventions and a hostage standoff, to the dawn of the World Wide Web.  Her first book, Radio Shangri-La, is about the impact of media culture on the mysterious Kingdom of Bhutan, where she was invited to help start a radio station at the dawn of democratic rule.

A graduate of Hampshire College, Lisa leads an award-winning volunteer cooking group at the Downtown Women's Center on Skid Row in Los Angeles.  She's also the founding board chair of the Bhutan Media Society, an all-volunteer news outlet created by Bhutanese refugees in diaspora.

Penguin Randomhouse
Tags: Authors, Book Review, Book Reviews, Interview, Lisa Napoli
Posted in Miscellaneous & Opinion |