Sheryl Sandberg is Facebook's Chief Operating Officer (she runs the business side). Top in her year at Harvard Business School, she rose to Clinton's White House, McKinsey, Google and finally Facebook. Sandberg, already a billionaire who earns a reported $30 million per year, encourages women to participate, or 'lean in' to get ahead professionally.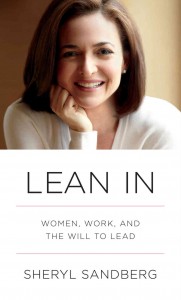 I  just finished reading the book Lean In: Women, Work and the Will to Lead  by Sheryl Sandberg. For a while now, I had been reading bits and pieces about her, here and there, and I have always been massively impressed by her profile. Now, after reading her book, this is what I have to say to her.
In defense of all the women who work hard and live paycheck to paycheck, I tell you, dear Sheryl Sandberg, that it is easy for you to say what you have said, even though I am really glad you said it. But still, let's consider all the facts and all the circumstances that surround your success and your book. You were given the right tools in life, and you used them the best way you could, but not every woman has been given the same circumstances and the same tools as you have.
In her book, Sheryl Sandberg talks about her reality and her truth, but her truth is not an off-the -rack garment, which easily and immediately can be a perfect fit to every woman's life and carrier. She is starting a social movement amongst  20- to 40-year-old career women, a revelation which, in fact, started in the seventies by Gloria Steinem but had come to a halt for years now. I have no doubt that Sheryl Sandburg's move to make a go at this new movement is quite bold at first glance, but then we are reminded that after all, she has a safety net under her boldness – the safety net of
money and success.
The bottom line is that it is easy for her to say these bold statements, for she has already won the race, and now she feels everyone else who is not standing right next to her has fallen behind. She presumes every other woman should be a "winner" too, as she is. It is like she is Picasso and is telling all artists to move forward, for they can be like her – a Picasso – too.
"Lean In" is a basically a manual that Sheryl Sandberg has written for us women regarding how to put together our dream castle, but  I think there are some pieces of this manual that just don't fit. It might be that she forgotten that we all have our limitations as human beings. Each one of us belongs to a different flock of birds, each capable of flying only to a certain height – as simple as that.
About Sheryl Sandberg

Business Personality

Born: 28 August 1969

Birthplace: Washington, D.C.

Best known as: COO of Facebook, 2008-present

Sheryl Sandberg's remarkable career has included stops at the World Bank, the U.S. Treasury, Google and Facebook, where she's been Chief Operating Officer since 2008. Sheryl Sandberg grew up in North Miami Beach, Florida, and studied economics at Harvard. After her graduation in 1991, she worked at the World Bank as a research assistant to Lawrence Summers (who had been her professor and thesis advisor at Harvard), then went on to Harvard Business School, earning an MBA in 1995. She joined Summers again when he was Deputy Treasury Secretary under Robert Rubin; when Summers became Treasury Secretary himself in 1999, Sandberg advanced as his chief of staff. She was 29 years old. After Summers' term ended in 2001, Sandberg moved to California and joined Larry Page and Sergey Brin at a fledgling company called Google. As Vice President of Global Online Sales & Operations, she helped build the super-successful AdWords and AdSense advertising services, which made the company billions of dollars. In 2008 she was hired away by Mark Zuckerberg to become COO of Facebook. Her position as one of Silicon Valley's most successful female executives has made her a lightning rod for both praise and criticism, especially after the publication of her 2013 book Lean In: Women, Work, and the Will to Lead in 2013.

Read more at http://www.infoplease.com/biography/var/sherylsandberg.html

Sheryl Sandberg on her book, Lean In: http://www.youtube.com/watch?v=XS8gezSdMeA
Tags: Book Reviews, Books, Facebook, Lean In, Sheryl Sandberg
Posted in Book Reviews, Reviews |