Fashion is art, and it's the best means of self expression. It's very exciting to go to a fashion show – the excitement of seeing the latest trends we will be wearing and seeing it all with an eager, fresh outlook. It seems every year, we are ready for that change fashion offers us.
This past thursday, Neiman Marcus fashion director Michaele Hall hosted a spring runway show for the department store's top customers and other guests. It was a feast for the eyes – a woman's candy store. I personally would have liked to take home everything I saw in the runway show, for every piece shown was fabulous and would effortlessly fit into the southern California climate and lifestyle.
Just before the show, I was conversing with the woman sitting next to me in the first row. We were having an exchange about the latest trends for spring 2013. In my opinion, the latest trends will be Bermuda shorts; the colors blue and orange amongst other colors; gladiator shoes; open-toe boots; white and black; bold striping; flats and low heels; feminine fabrics, plus soft, buttery leather in different colors; statement sunglasses; and of course, the best trend is that now we don't have to wear only one neckless or one bracelet – this spring, we can stack and layer our jewelry just to achieve that certain impact.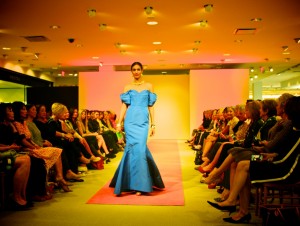 Right after the clock struck 12 noon, the show started, and the beautifully dressed models came out, one by one. COLOR, COLOR, COLOR. That's how the message was delivered and passed on in fashion this spring, I thought to myself . I love colors. After all, they create moods and make it ever-so-much-easier to fall in love with this spring's hottest fashion trends.
The whole show was so well put-together that it gave you the feeling that you did not want it to end. There were even some whispery gasps as some of the more dramatically dressed models would walk out on the runway.
When the show was over, I heard a woman sitting in the back row utter, "It was really awesome," as she got up to leave. As for myself, I had a very style-fully delightful afternoon. As I was leaving, I could that see some inspired attendees were shopping for a new look and a new wardrobe on their way out. After all, it's always so much easier to do after a runway show has given you plenty of new great ideas.
All photos by Mahvash Mossaed
The Neiman Marcus Spring Runway Show was held at Neiman Marcus at Fashion Island, 601 Newport Center Dr., Newport Beach, CA |
http://www.neimanmarcus.com
Tags: fashion, Fashion Island, Michaele Hall, Neiman Marcus, Newport Beach, runway, spring, Spring 2013
Posted in Style |