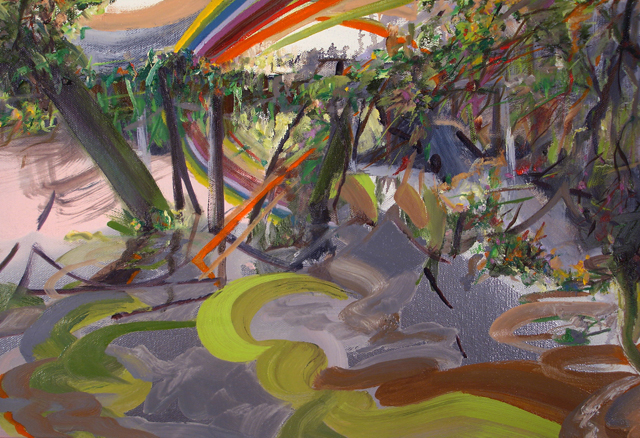 Jovan Karlo Villalba
Jovan Karlo Villalba's cinematic painting series, "New Beginnings," explores the natural and man-made world's possibility for restoration and revitalization following an imagined catastrophic event. In each work, spectacular scenes of natural cleansing, transformation and rebirth are depicted. The scenes describe events that are undoubtedly inspired by the Creation narrative from the Book of Genesis. Villalba uses a variety of strokes, washes, bleeds and blends over multiple layers of paint in each piece, creating a gratifying and refreshing experience by stimulating contemplation and escapism in a viewer. He shades realism into abstraction, and like Turner's Fisherman at Sea (1796), his landscapes transform paint and canvas into studies of the sublime power of the natural world.
Jovan Karlo Villalba was born in Quito, Ecuador in 1977. He studied fine art at New World School of the Arts in Miami, Florida and received a BFA from The Cooper Union School of Art in New York City. Over the past ten years Villalba has shown his work at galleries throughout the United States and in biennial exhibitions at Exit Art and the Queens Museum of Art in New York City. Villalba currently lives and works in Miami, Florida.
---

Reception
September 2, 2010 . 6-9PM . First Thursday Art Walk
At the DEMOSSA GALLERY
On exhibition until October 2nd
1294-D South Coast Highway, Laguna Beach, CA 92651 [Map]
Tel/Fax: 949.715.9229
Hours: Wednesday-Sunday 12-5PM (additional hours by appointment)
RSVP BY REPLYING TO
ART@DEMOSSAGALLERY.COM
Tags: Demossa Gallery, Exhibitions & Events, Jovan Karlo Villalba
Posted in Demossa Gallery, Exhibitions & Events |