I had the opportunity to interview Lauren Sandler, the author of The This Is all I Got. Here are some highlights.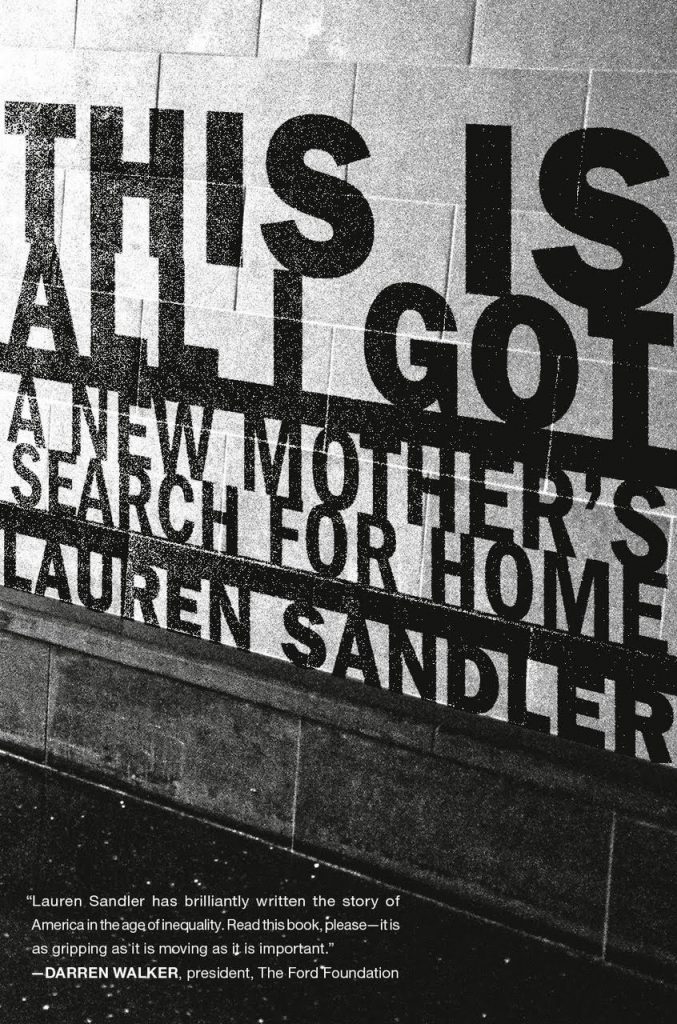 Do you write for others or for yourself only?
I write for others only! My outrage about inequality in the world is what leads me to write – I want others to feel what I feel, to see what I see. That passion is fire everything I write. In the case of THIS IS ALL I GOT, I wanted people to feel the experience of homelessness, of futility, and of the ambitions and desires of such a compelling young woman who would otherwise be a statistic. This is the magic of books: living another person's life, feeling what they feel, this is how we can care about others, and hopefully, in the case of my book topic, make great change in the world.
Are you affected by other people's appraisal of your work? Have you ever been hurt by them?
Of course! I'm not going to front – getting a rave from the New York Times (written by one of the greats of the form, Alex Kotlowitz) was massively validating. And while criticism can sting, of course, I always try to take something away from it.
Do you feel that you and the characters in your book have been well understood by your readers?
I didn't shy away from the complexities of the characters in my book – I wanted them to be as multifaceted on the page as I found them in person. Not just because I think it makes for rich reading experience, but because I think that stories about poverty and uneven power so often flatten characters, making easy heroes and villains, instead of people reflecting the complicated natures of the lives they lead, and their multidimensional responses to impossible circumstances. It's been remarkable to hear readers respond to those complexities.
What books are currently on your book stand?
These days I'm reading so obsessively that they don't pile up for long – it's how I cope with crisis, always. I don't know what I'd do without a new book every few days to pull me through. At three am I started the Topeka School, Ben Lerner. Stacked under that book is Unfinished Business, Vivian Gornick's book about rereading (I'm a huge Gornick fan), which I'll probably read next. And under that is Exit West, by Moshin Hamid, which I'd been meaning to read for a couple of years. It's extraordinary. Reading how a society devolves into utter crisis, from my bedroom in Brooklyn, as the virus ramped up – it was such an eerie reflection, and exercise in perspective and fortitude. Amazon.comhttp://www.laurenosandler.com
About the author

Lauren Sandler is an award-winning journalist based in Brooklyn, and the author of This Is All I Got, a book of narrative nonfiction about a young homeless mother in New York. The book has been shortlisted for the Lukas Work-in-Progress prize. Lauren is the author of two previous books, the bestselling One and Only: The Freedom of Having an Only Child, and the Joy of Being One and Righteous: Dispatches from the Evangelical Youth Movement.  

Lauren's essays and features have appeared in dozens of publications including Time, The New York Times, Slate, The Atlantic, The Nation, The New Republic, The Guardian, New York Magazine,and Elle.  She has been on staff at Salon and at NPR, where she worked on All Things Considered, Morning Edition, Weekend Edition, and the Cultural Desk. 

In addition to her journalism, Lauren leads the OpEd Project's Public Voices Fellowships at Yale, Columbia, UVA, and Dartmouth, and has taught in the graduate journalism program at NYU, where she has also been Visiting Scholar. She was a regular commentator for the BBC and has been interviewed nationally and internationally on many networks including CNN, PBS, CBS, NBC, and throughout public radio.

Lauren is a member of NationSwell Council. She has been a Poynter Fellow at Yale, a Calderwood Journalism Fellow at the MacDowell Colony, and a resident at the Maison Dora Maar in Menerbes, France.
Tags: Book Review, Interview, Interviews, Lauren Sandler, This Is All I Got
Posted in Book Reviews, Reviews |