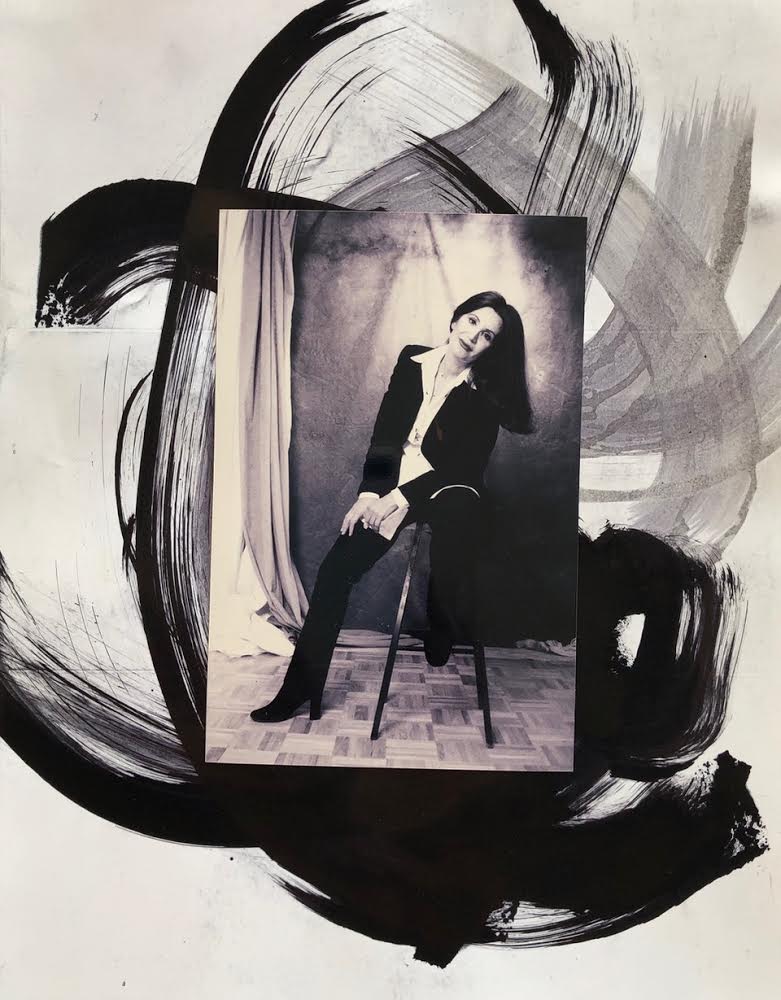 my universe
The line of the horizon (drawn completely straight)
Separates and divides my dreams and my realities
Just so that the universe can lean toward it,
While it's orbiting in confused emotional direction—
Carrying my eyes, my arms, and my hands with it.
I am one with everything.
When my heart is heavy with sorrow,
The universe tips over to one side like it's gone out of balance.
That makes my horizon crooked.
That makes my impatiens not to bloom.
Being profoundly disappointed in nature,
I stretch, bloom, and open up my soul in their place in protest.
While my confused, unbalanced universe
Is orbiting around the crooked line of my horizon.
on the balcony
Blue multiplied by blue, and as far as Eternity blue.
The small patch of cloud wakes up by the footsteps of the Sun.
On the pavement in the light, two silent red butterflies
Are sitting on my temples.
The brown, dead leaves and the gray, wounded sparrows
Are debating with the cold wind over whether to stay or go.
On the balcony Someone is standing, to watch and to witness.
Someone who in season opens the windows of the sky for the rain to fall.
Someone who worries over the irregular number of rose petals
And sprinkles fresh air in the open fields.
And His voice is so soft and clear that can draw an imaginary roadmap
Leading the streams to the rivers.
On the balcony Someone is standing, to watch and to witness.
hide and seek
I got lost in the dark on purpose so I can find me.
It was a game I played alone.
There was pleasure, there was pain and passion.
And there was fear and death and religion
Where I had to look for God in hiding,
And I had to look for me in hiding,
And where love had to find me
I lost myself in the dark just to fall in love with life
And become its captured prisoner,
And not ever want to leave its premises.
And in the midst of all my confusion I knew life is a stream,
Taking me with its current towards a river
That at the end will swallow me.
I lost myself in the dark.
the fear
Time has abandoned the calendar in the kitchen.
Our house is cold, silent, and empty.
The paint on the walls is peeling,
And the smell of burnt toast and bittersweet marmalade is trapped inside.
The windows do not dare to open themselves up to fresh air
They are fearful of everything temporarily
And things that happen of their own accord.
We stand by the window, look out, and fear
That one day the germs will invade us
And our shadows will no longer match our forms.
And in fear of missing the joys of life we will die of laughing.
the supermarket
I have complete faith that I have been put in this aisle
Of this over-loaded, over-lighted supermarket by God.
And that's why I am holding tight to my list of items to buy.
I know I cannot be destroyed by the sodium
And the artificial coloring of the canned foods.
Nor can my dreams be packaged and frozen
Together with the beef and poultry and salmon.
I am graceful and neat, and I occasionally smile
At the other shoppers who pass me by.
Some wearing a white sheet, posing as lost spirits drifting by my side,
Some wearing the mask of a happy housewife
With Berber carpets and two-door refrigerators.
But nevertheless we all run around,
Not to miss out the specials of the day—the tomatoes, and the onions,
And the diet Cokes, and the Campbell's soups.
At the check stand the checker girl empties my cart.
She has deep lines in her face and blood under her fingernails.
I wonder if God is analyzing or judging my choices.
She understands. She smiles coldly. She says,
"They all feel that way when it's time to pay out,
But believe me it will be over soon,
And you will feel a sense of relief.
At last you will be free."
But still, when I push my heavy cart out of
This over-loaded, over-lighted supermarket,
I have tears of envy and sorrow in my eyes,
For all the things I missed out on,
For all the things I could have but did not buy.
Tags: blue, Mahvash, Mahvash Mossaed, poems, Poetry
Posted in Mahvash Mossaed, Miscellaneous & Opinion, Poetry |