Cannes Film Festival 
May 16nd – 27th, 2007
Unveiling, I Paint a Woman's Life in My Culture has been selected! It will be screened in the Short Film Corner where prestigious Cannes professionals from all over the world including buyers, producers, film festival programmers and the general audience review the film. The Short Film Corner also holds conferences and panels on short film issues (diffusion, institutional financing, new technologies, film music, etc).
---
 Click for Film Anthology Archives! 
April 11th, 6pm
32nd Ave @ 2nd Street, NY New York
New Filmmakers gives indepedent filmmakers the chance to show their work directly to the public and enhance and gives New York audiences the opportunity to see outstanding new films!
---
Cakewalk Film Festival
September 22nd – 24th, 2006
Gone to Pick Flowers & Unveiling, I Paint a Woman's Life in My Culture have been selected to screen in the 2nd Annual Cakewalk Film Festival in Birmingham, Alabama!
---
Independent Film Forum
July 30th, 2006
Gone to Pick Flowers is featured in Season 2 of the Independent Film Forum! IFF features an online forum where the international public screen and vote for their favorite films through the forum website. Click the link above to watch our film and many others!
---
Cannes Festival
May 16th – 27th, 2006
ITN distribution & IFQ, Independent Film Quarterly Magazine are delighted to present the Bio-Documentary entitled "Unveiling, I paint a woman's life in my culture." Written and directed by the internationally acclaimed painter and poet Mahvash Mossaed and produced by the award winning producer Dennis Roberts.
---
New York Independent Film & Video Festival
Saturday May 6, 2006
Awards: BEST CULTURAL DOCUMENTARY
NYIIFVF's executive director Stuart Alson commented, "We are honored that Unveiling, I Paint a Woman's Life in My Culture " is an official selection at this year's festival. Mahvash's film is evocative, expertly crafted and contains powerful visual imagery. She is a very gifted artist who found a unique and effective way to tell her story and communicate her message to women all over the world. We feel that this is an important film and deserves to be screened at film festivals and hopefully television stations around the world. Mahvash is a highly talented painter, poet and gifted storyteller. She expertly guides us through the story of her life and her extraordinary journey of self-discovery, as a Middle Eastern woman with dreams that desperately needed to be realized. The subject matter is emotional, well organized and engaging."


*****
Show Biz Weekly
Acclaimed Painter and Poet Mahvash mossaed's debut film "Unveiling, I Paint a Woman's life in my Culture" was so very impressive. Her artwork and film promotional materials attracted a lot of traffic at her booth on opening night at Spirit. The 60 minute bio-documentary tells the story of an Iranian woman's journey of self-growth and self-discovery. In her emotional introducition at the village East, Mahvash dedicated her film to "the Middle Eastern women who have had their dreams stolen."
The Orange County Register
Friday, September 15, 2006, Painting through pain By Teri Sforza
Iranian-American artist Mahvash Mossaed gets past her fears to reach her potential.
The garden in Tehran was surrounded by a high wall "to keep out everything not beautiful." Flowers bloomed riotously. A blue fountain gurgled. And morning began when her father lifted the rose off the book on the breakfast table and read a poem aloud to his three daughters. Everything was like a dream. Slow. We lived in a dream," said artist Mahvash Mossaed, who feels life has taken her from dreaming to waking, from darkness to light, from Iran and Canada and Great Britain to Kenya, South Africa, and ultimately, Orange County, where she finally decided she must fly as high as she can fly.

Unveiling, I Paint a Woman's Life in My Culture. Local artist/poet Mahvash Mossaed presents the bio-documentary she wrote, directed and narrated about herself. Born in Iran, she gives a candid account of her life and experiences. Laemmle's Fairfax, 7907 Beverly Blvd., Los Angeles,
---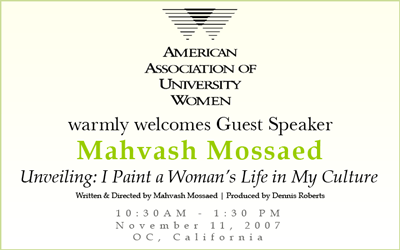 Tags: Film, Film Awards, Film Festivals, Mahvash Mossaed
Posted in Awards & Reviews, Film, Mahvash Mossaed |